The Power Electronics industry has been meeting in Nuremberg since 1979. The exhibition and conference is the leading international platform showcasing current products, topics and trends in power electronics and applications. Here you can find an overview of the most important facts and figures on this event.
At a glance

Figures clearly demonstrate that the PCIM Europe is continuing to grow. Between 5 - 7 June 2018, 506 exhibitors presented their spectrum of products on 23,500 square meters.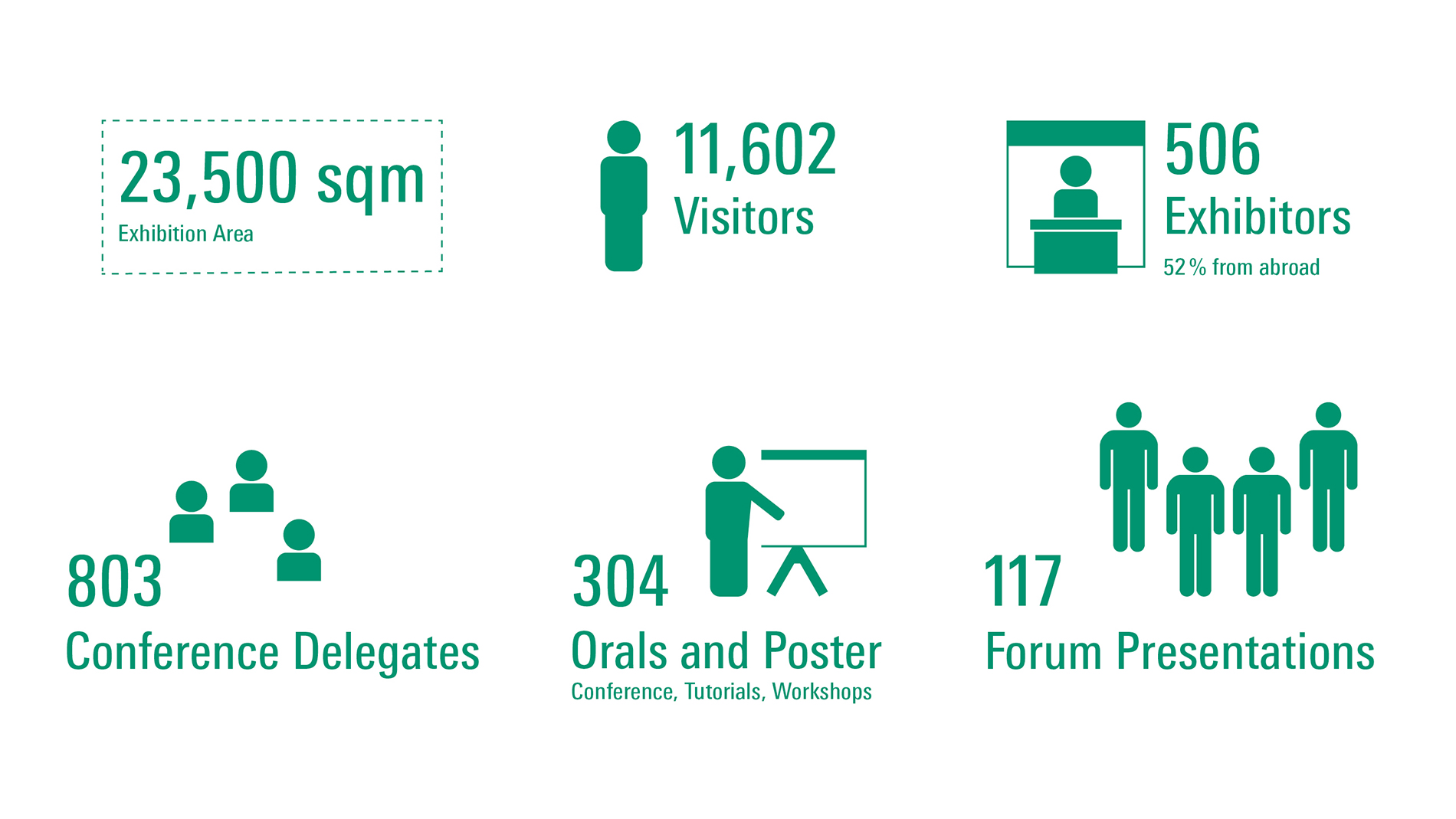 Comprehensive statistics
The statistics offer insights into the PCIM Europe's development, shed a light on the origin of exhibitors, visitors and conference delegates, elaborate on their key competencies and much more.
Numerous experts from well-known companies informed themselves on current topics and trends in power electronics and its applications in Nuremberg, Germany, such as e.g .: 
A
AEG Power Solutions GmbH
Airbus
ALSTOM
Andreas Stihl AG & Co KG
AUDI AG
B
BALLUFF Elektronika Kft.
Baumüller Nürnberg GmbH
Beckhoff Automation GmbH & Co. KG
BMW Group
Bombardier
Borgwarner
Broadcom
BSH Bosch und Siemens Hausgeräte
C
Compact Power Motion GmbH
Continental AG
D
Daimler AG
Delphi
DENSO Automotive Deutschland
DETAKTA Isolier- und Meßtechnik
Deutsche Bahn AG
E  
EGSTON GmbH
Endress&Hauser
Erbe Elektromedizin GmbH
F
Fagor Automation S. Coop.
Festo AG & Co. KG
H
Hilti
InDriya Power LTD.
I
Itochu Automobile Corporation
J
Jaguar Land Rover
John Deere GmbH & Co. KG
K
KEB Automation KG
Knorr-Bremse Group
KOLEKTOR group d.o.o.
KONCAR
KUKA Roboter GmbH
L
Lenze SE
Leuze electronic GmbH + Co. KG
LG Electronics
Loewe Technologies GmbH
M
MAN Truck & Bus AG
mbtech
MCLAREN APPLIED TECHNOLOGIES
Mercedes Car Group
Miele & Cie. KG
N
Nokia AG
O
OSRAM GmbH
P
Panasonic Automotive Czech
Porsche Engineering Services
PRETTL Group
Proton Motor Fuel Cell GmbH
Q
Qualcomm CDMA Technologies GmbH
R
REHAU AG+Co
Renault SAS
Rheinmetall Automotive
Rimac Automobili
Roland Berger
S
Samsung SDI
Schaeffler AG
Scherdel GmbH
Schneider Electric
SEG Automotive
SEW-EURODRIVE GmbH & Co. KG
Sonceboz Automotive SA
STÖBER ANTRIEBSTECHNIK
T
Telekom Deutschland GmbH
Texas Instruments
Toyota Motor Europe NV/SA
U
United Automotive Electronic
V
Valeo Siemens eAutomotive GmbH  Valeo
VARTA Storage
Vestas Wind Systems A/S
Volkswagen AG
VoltStorage GmbH
W
Wieland Thermal Solutions Lda
WITTENSTEIN motion control GmbH
Y
YASKAWA CONTROLS CO.,LTD
Z
ZF Friedrichshafen AG