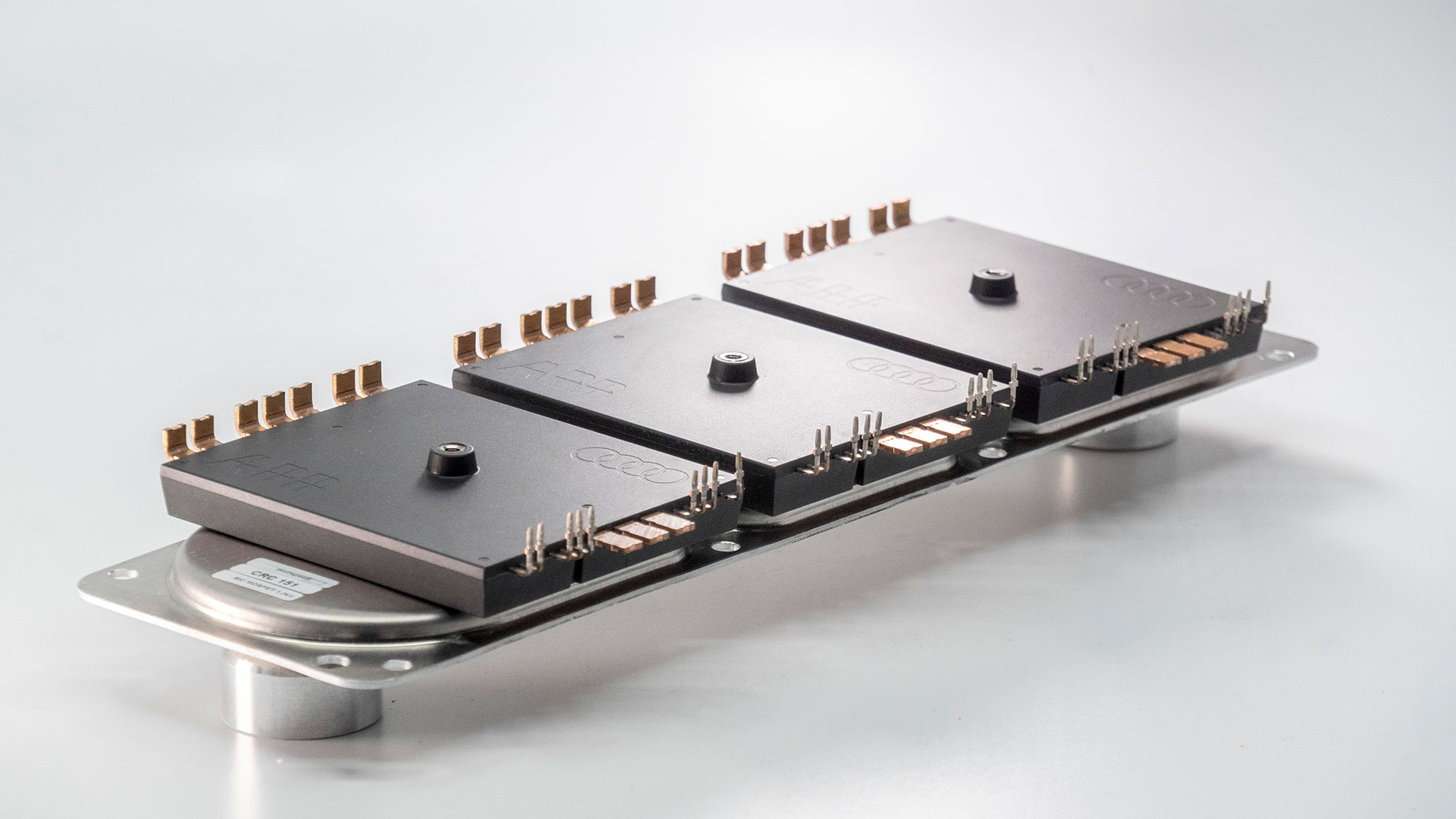 The International Energy Agency's electric vehicle outlook projects a rapid growth from three million vehicles in 2017 up to 228 million electric vehicles by 2030 [1]. This development presents the need for cost-effective and reliable power electronics inverters in the drive train of passenger and commercial vehicles. At the heart of the traction inverter are power semiconductor modules that control motor torque and speed via pulse width modulation. These modules must fulfill specific requirements and aspects important for the automotive sector:
Generally, cost reduction is a key development target and big challenge since the automotive environment is extremely sensitive to component cost.
Modules must be optimized for mechanical integration into highly compact inverters that are mounted in space-restricted engine compartments. Ideally, the module is also scalable in output power for different inverter classes.
The module must be optimized for harsh environmental conditions (ambient temperatures, severe vibrations, humidity), strong cyclic loads, and from future trends towards miniaturization and inverter integration to the electric motor.
To address these performance requirements, ABB has developed a SiC/Si power module platform with the following key features [2]:
A mold module approach is selected that does not require any housing (cost benefit) and that provides excellent environmental protection, cycle reliability and protection against shock, vibration and handling damage.
A completely solder-free power module is realized for the highest cycle reliability and robustness standards. All interconnections are either sintered or welded. In addition, the device topsides are bonded by copper wire.
To allow for SiC fast switching, power and gate loop parasitic inductances and coupling coefficients are rigorously minimized.
A low-cost cooler enclosure is realized by laser welding of mold modules into a cooler structure based on embossed aluminum sheets. In this manner, a compact three-phase inverter module is achieved without the need for screwing or clamping of O-ring sealings.
The module offers several aspects of scalability. Two different substrates are applied to assemble either a high-power SiC, or a lower-power Si version for the identical external outline. This allows for output power scaling in the range of 150 – 350 kW. In addition, the module cost can be scaled by applying different power module component materials (substrates, baseplates, bond materials) to optimize for the right cost-performance ratio for the specific target vehicle.
Module characterization and accelerated stress tests are conducted to validate the performance and to demonstrate high-temperature operation up to junction temperatures of 200 °C.
"Generally, cost reduction is a key development target and big challenge."
[1] International Energy Agency, "Global EV Outlook 2018", available online.
[2] J. Schuderer, C. Liu, N. Pavlicek, G. Salvatore, JY. Loisy, A. Schröder, D. Torresin, T. Gradinger, D. Baumann, F. Mohn, A. Apelsmeier, "High-Power SiC and Si Module Platform for Automotive Traction Inverter", PCIM Europe 2019, Winner of "Best Paper Award"
Tags
Traction
High power converters
Power semiconductor devices
Modules
E-Mobility