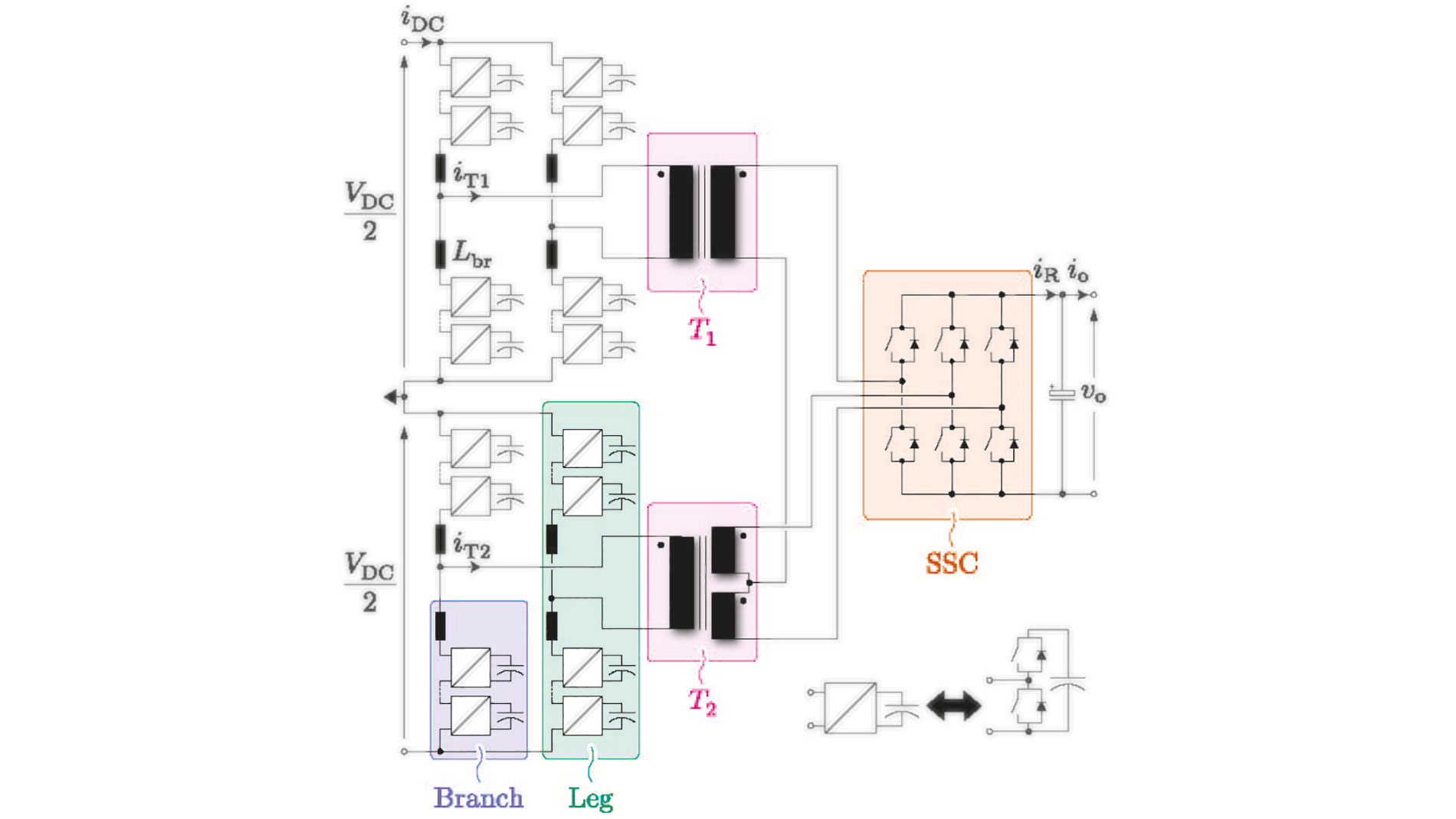 Due to the limited voltage blocking capabilities of commercially available semiconductor devices, monolithic multilevel converters have represented a workhorse of various medium voltage applications (e.g. 1kVac - 36kVac) for almost forty years so far. Typical converter structures, such as Neutral Point Clamped, Cascaded H-Bridge, Flying Capacitor converter and their variations provided better AC output voltage quality with less filtering requirements when compared to the conventional two-level counterparts, which made them suitable for multi MW applications in both utility and industrial sector. Yet, these structures were not allowing for easy output voltage increase, due to semiconductor limitations as well as reasons related to the internal converter control. While these converters have brought the concepts of Power Electronics Building Block (PEBB) forward, they were not truly modular in the sense of voltage scalability.
With the invention of the Modular Multilevel Converter (MMC), now almost twenty years ago, new possibilities have been created to easily realize high and ultra-high AC output voltage with almost sinusoidal shape due to a high number of voltage steps involved. As the name implies, converter is realized using the basic building blocks (submodules) stacked together (similar to Cascaded H-Bridge converter, yet with without the need for the external powering of the submodules). Rather quickly, technology has been commercialized and found its place in High Voltage Direct Current (HVDC) applications and some industrial variable speed drive applications.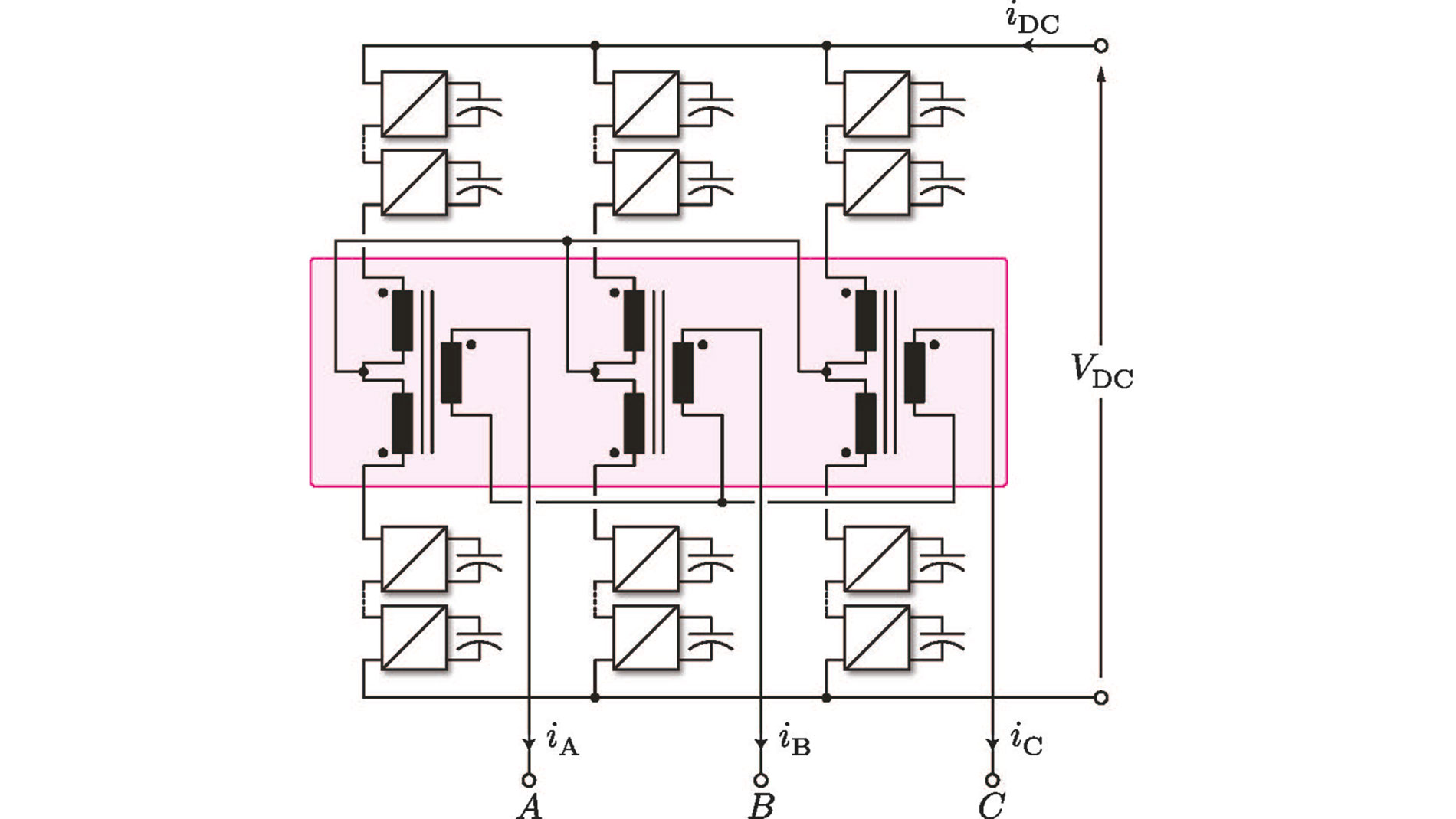 Over the last few years, an increasingly growing interest in the Medium Voltage Direct Current (MVDC) (e.g. ±1.5kVdc -  ±50kVdc) applications, being driven mainly by the needs of exploring the other means of collecting and distributing power, can be witnessed.  Typical examples can be found in the renewable energy generation domain or within some special installations such as marine electrical power distribution networks.
It is exactly this area where the MMC offers great deal of flexibility with respect to realization of efficient electrical energy conversion. Two examples, thoroughly studied in [1]-[2], are shown, demonstrating the novel power electronics topologies that successfully exploit the MMC scalability with the aim of meeting the application requirements. In both cases, advanced integration of magnetic structures into the MMC, supported by the suitable control algorithms, makes it possible to address the MVDC application needs in an efficient way.
As our electrical energy needs continue to increase, our energy systems will undergo transformation and MVDC power distribution networks are expected to emerge in relevant applications, supported by the advanced power conversion technologies.
[1] S.Milovanovic, D.Dujic: "High Power DC-DC Converter Utilizing Scott Transformer Connection", IET Journal on Electric Power Applications, vol. 13, Iss. 10, pp. 1441-1452, 2019.
[2] A.Christe, D.Dujic: "Galvanically isolated modular converter", IET Journal on Power Electronics, vol. 9, Iss. 12, pp. 2318-2328, 2016.
"MVDC power distribution networks are expected to emerge in relevant applications."
Tags
High power converters
Power electronics for power grids
Power electronic converters