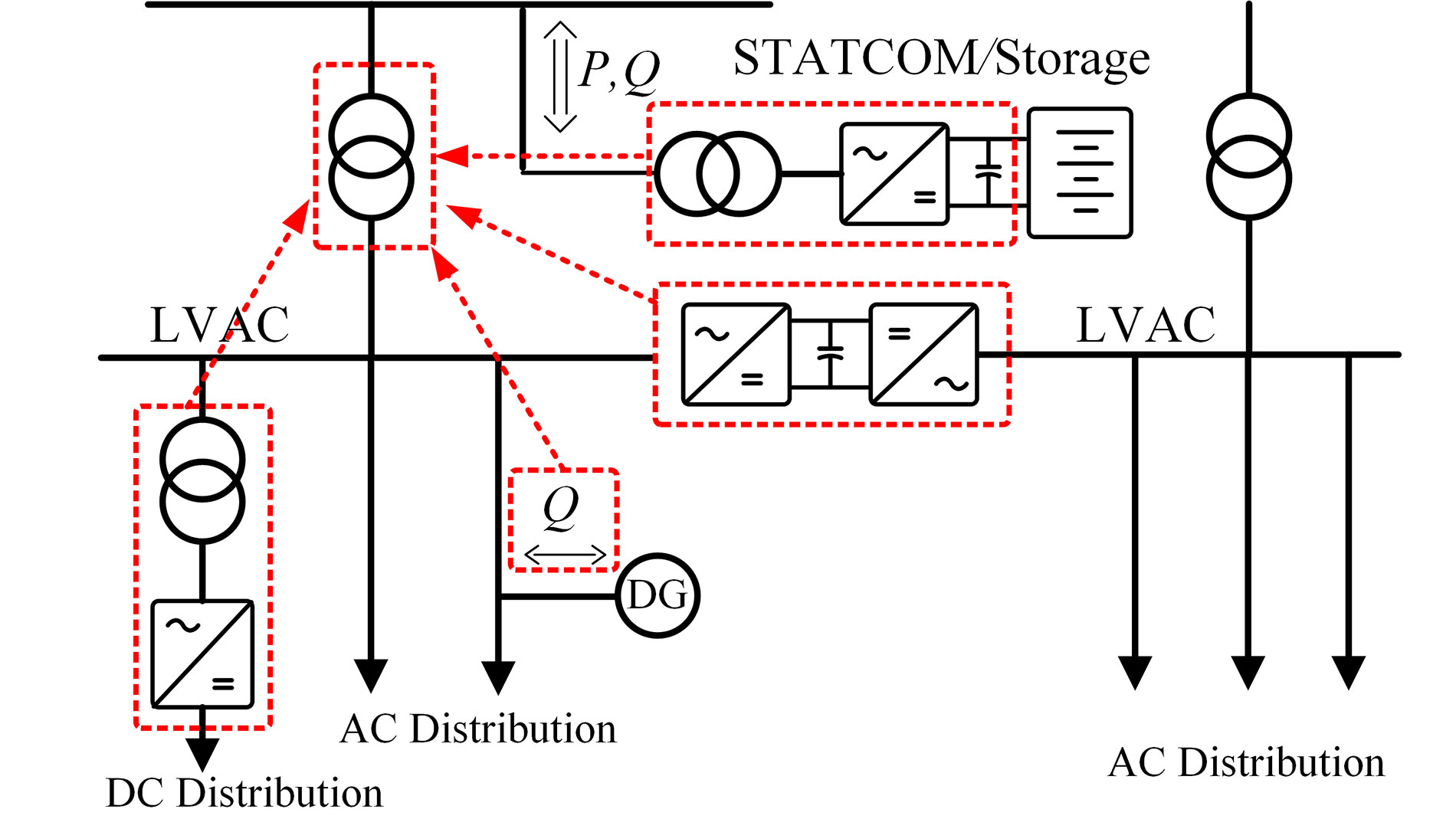 Due to the increasing penetration of distributed generation, the LV electric grid may experience high voltage violation and overcurrent, as well as stability and power quality issues. As compared to the conventional power transformer, the solid-state-transformer-based Smart Transformer (ST), can provide the dc connectivity as shown in Fig. 1.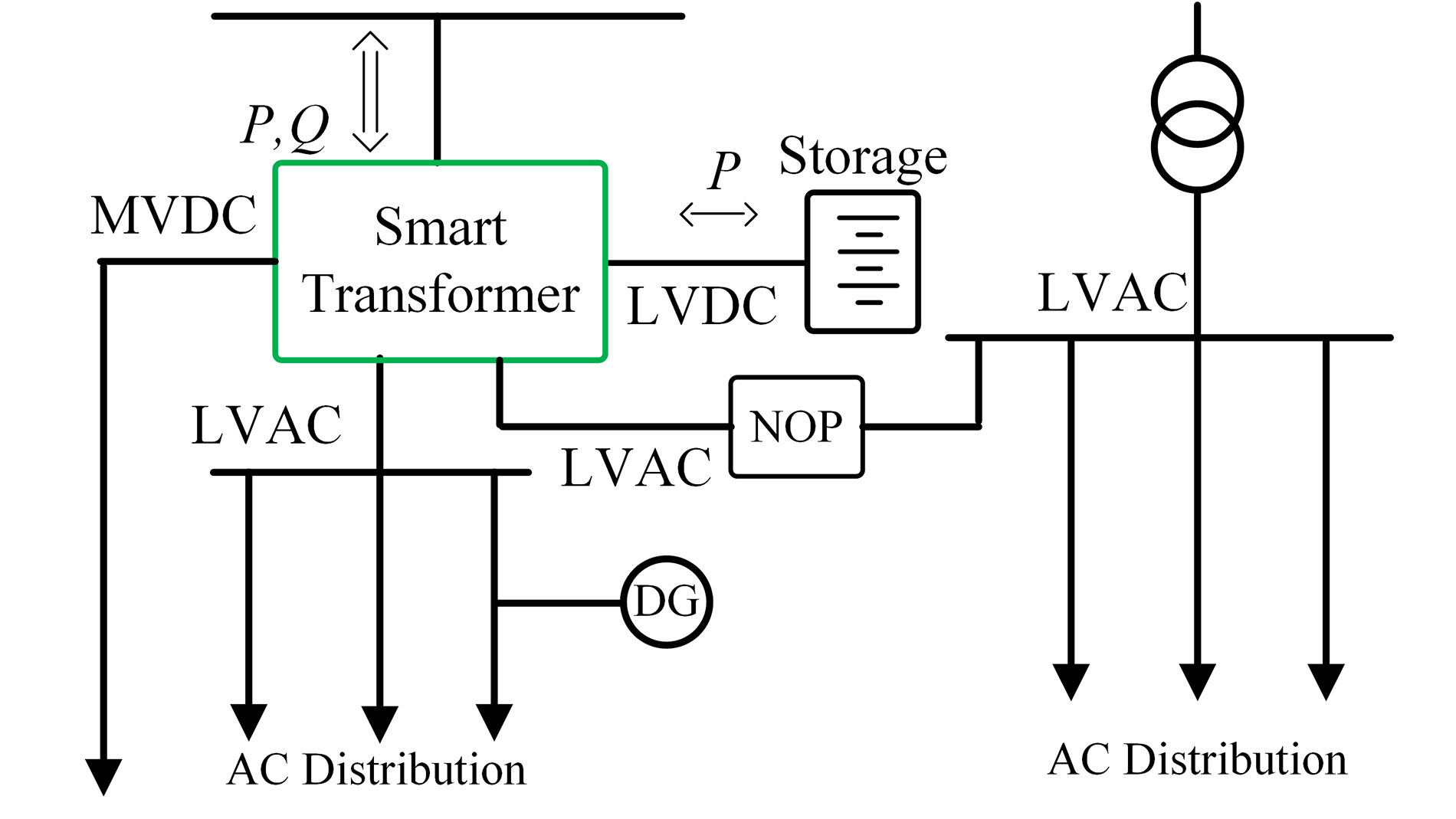 This enables hybrid grid operation which improves efficient integration of storage as well as a better meshed of the electric grid. This however, allows for a more optimal power flow, which reduces loading of traditional power transformers and cables [1]. Moreover, the ST can improve the grid resilience by means of post-fault management [2]. Consequently, ST can potentially avoid or defer grid reinforcement [3].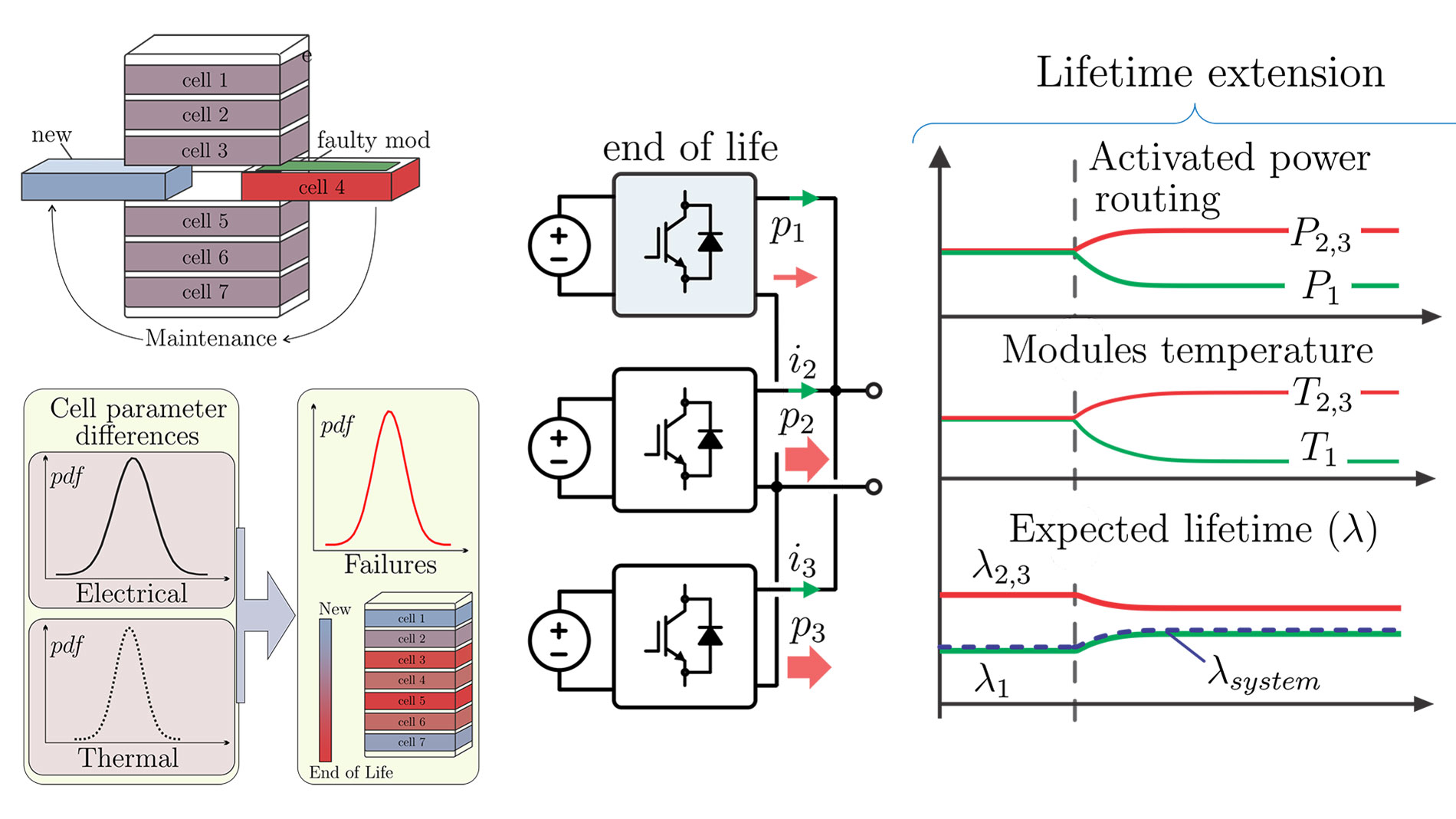 The ST must be realized with a modular structure to provide scalability and higher availability through fault tolerance and reconfigurability to the secondary substations. The design and control of a complex modular structure could result in efficiency and reliability challenges because of the higher number of components respect to a non-modular one. Power routing as visualized in Fig. 2 allows to exploit the modularity to transform this possible weakness in a point of strength [4]. The basic principle of power routing is loading more those subsystems with longer remaining useful lifetime and loading less those, which are nearer to their wear-out, also for better scheduling and even delaying maintenance. Several innovative modulation and control techniques allow the implementation of power routing and graph theory allows a holistic modelling of the ST to take efficiency and reliability into consideration in the control.
The presented concept of the ST and other ST concepts will be tested under grid conditions in the Ofgem-funded "LV-Engine" project led by Scottish Power in the public electric grid in 2020 [5].
"Power routing increases the reliability of modular power electronics"
[1] M. Liserre, G. Buticchi, M. Andresen, G. De Carne, L. F. Costa and Z. X. Zou, "The smart transformer: impact on the electric grid and technology challenges," IEEE Ind. Electron. Magazine, vol. 10, no. 2, pp. 46-58, Summer 2016.
[2] G. De Carne, M. Langwasser, R. Zhu and M. Liserre, "Smart transformer-based single phase-to-neutral fault management," IEEE Trans. Power Delivery, vol.34, no.3, pp.1049-1059, June 2019.
[3] R. Zhu, M. Liserre, "Requirements for Smart Transformer," In Proc. PCIM European, Nuremberg Germany, 2019, pp.544-551.
[4] M. Liserre, M. Andresen, L. F. Costa G. Buticchi, "Power routing in modular smart transformers: active thermal control through uneven loading of cells," IEEE Ind. Electron. Magazine, vol.10, no.3, pp.43-53, Sept. 2016.
[5] https://www.spenergynetworks.co.uk/pages/lv_engine.aspx
Tags
Renewable energies
Power electronics for power grids