The Power Electronics industry has been meeting in Nuremberg since 1979. The exhibition and conference is the leading international platform showcasing current products, topics and trends in power electronics and applications. Here you can find an overview of the most important facts and figures on this event.
PCIM Europe 2023: Exhibition & Conference Summary
The reunion of the power electronics community at the PCIM Europe 2023 was a full success – this was not only shown by the unique feeling at the event on-site, but now also by the evaluation of the figures. 16,550 visitors informed themselves about product innovations and solutions of the industry at 507 exhibitors on a total area of 30,000 sqm. At the parallel conference, 895 participants expanded their expertise in power electronics within 377 presentations.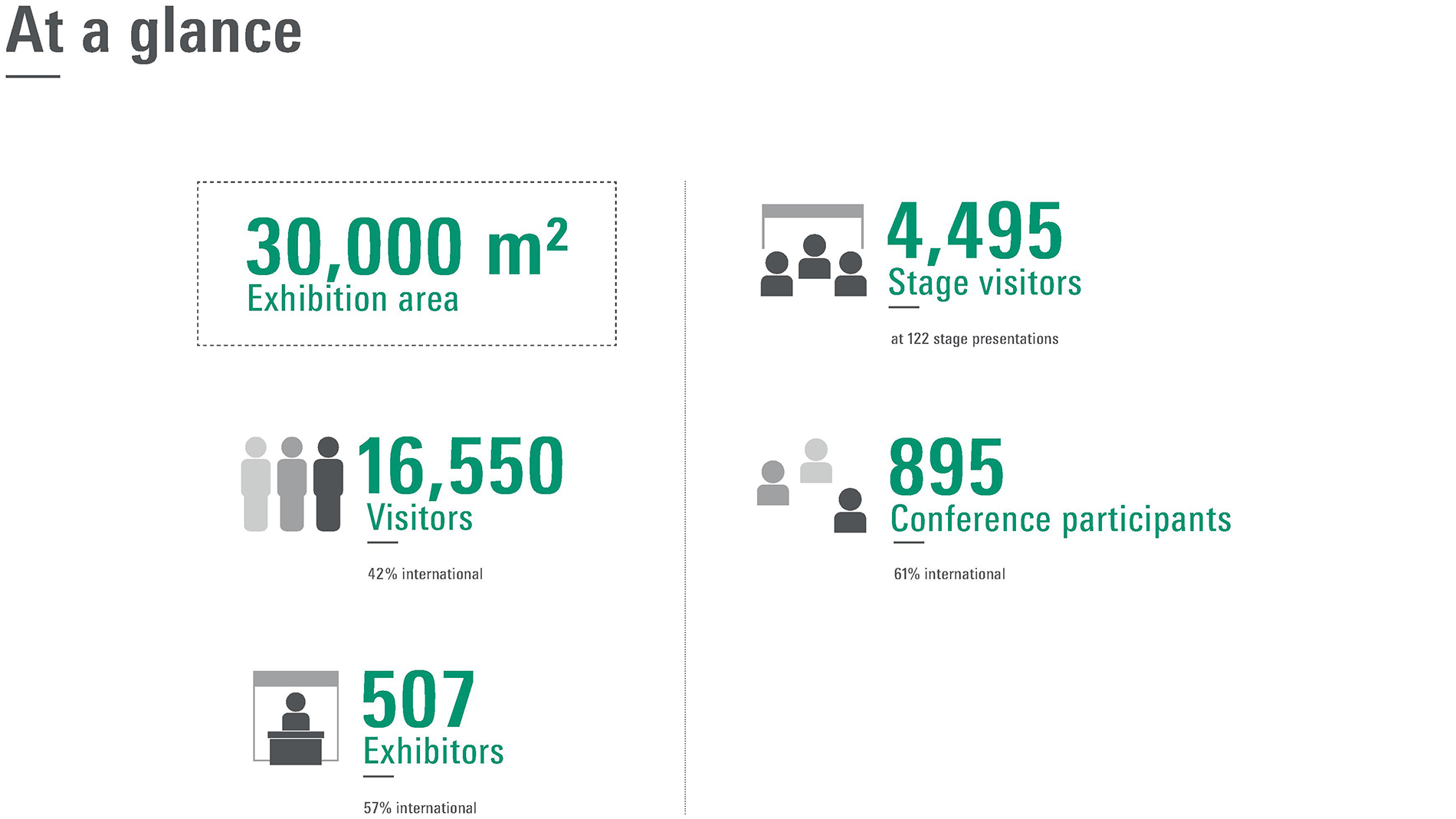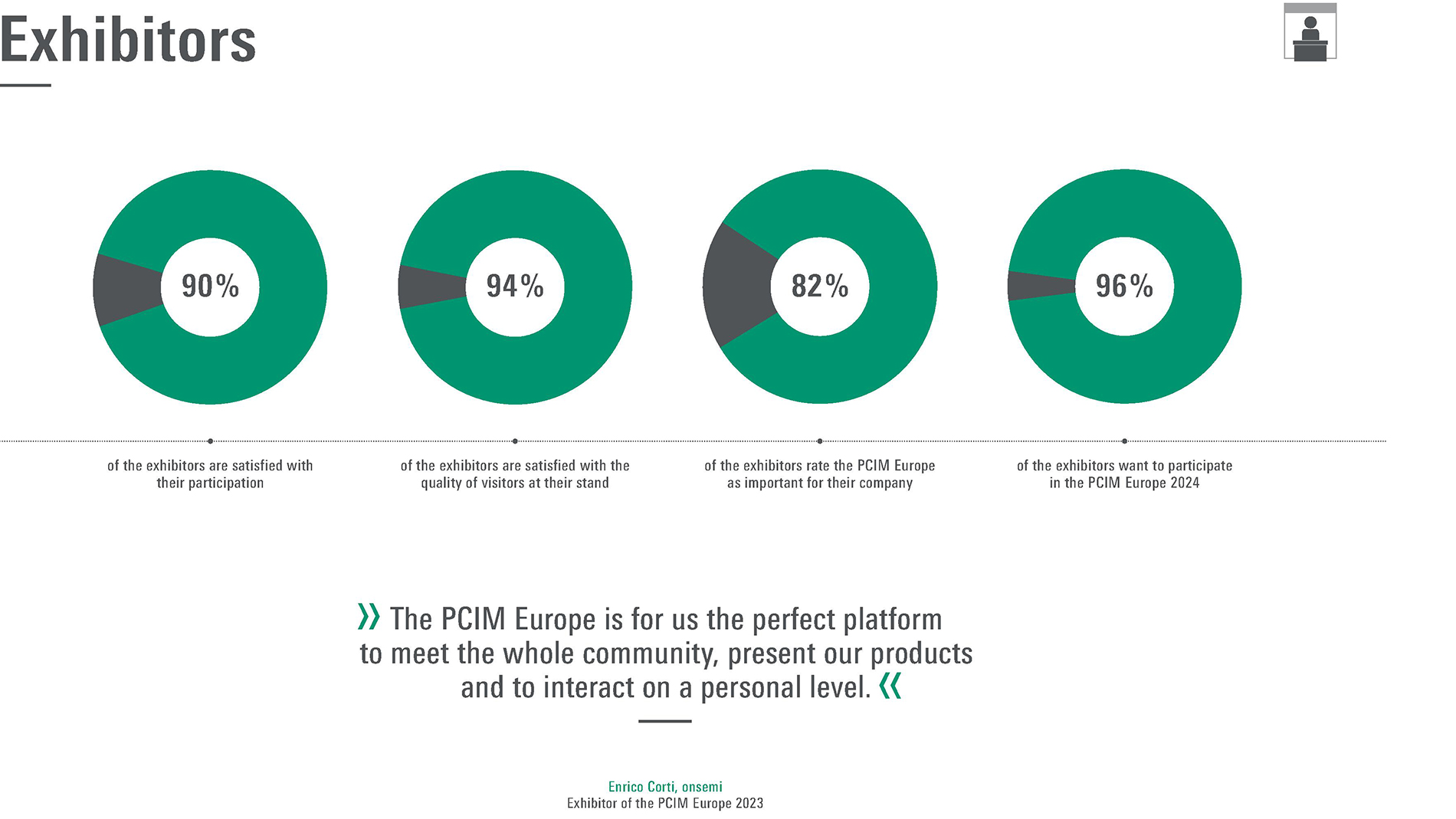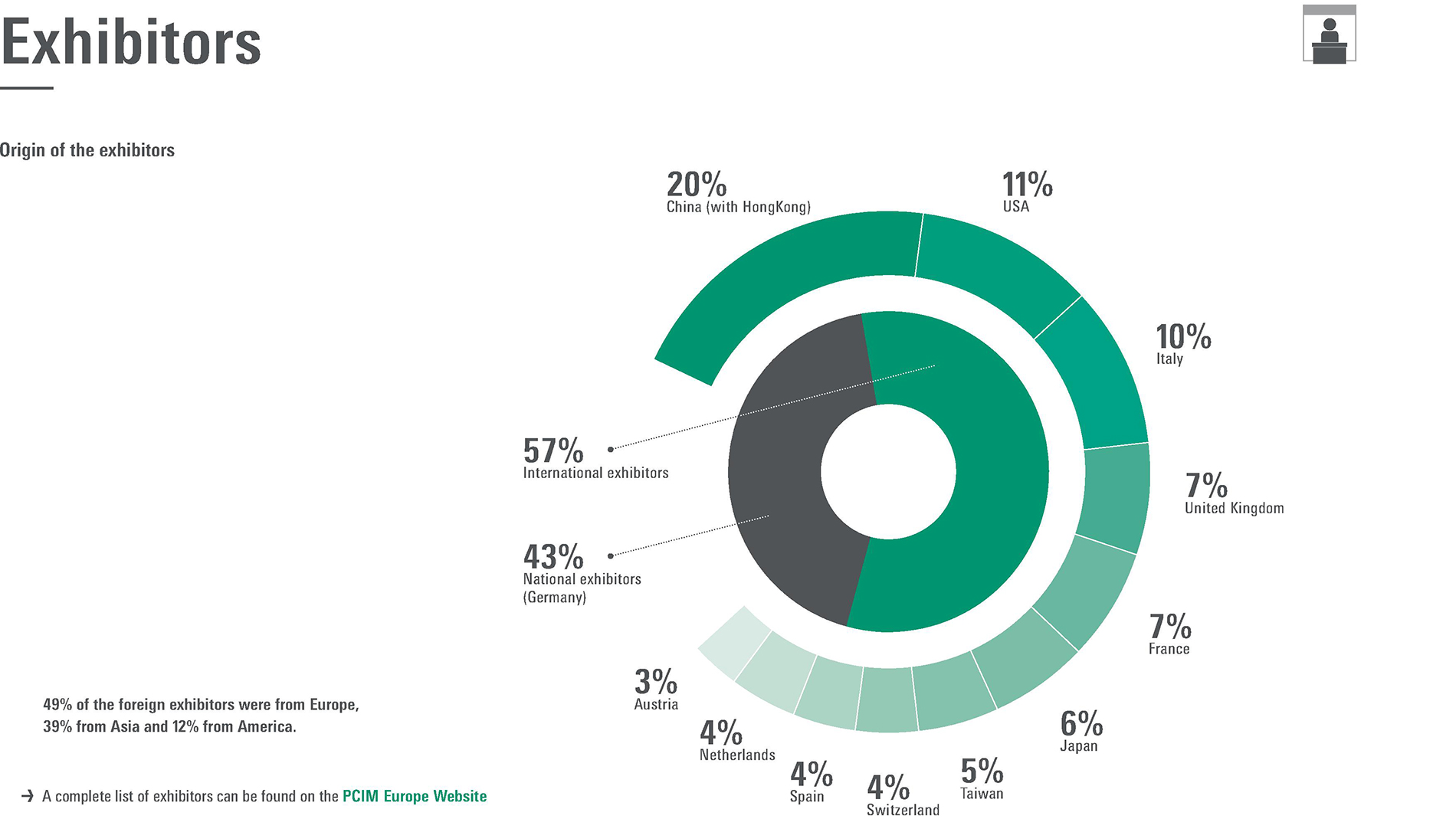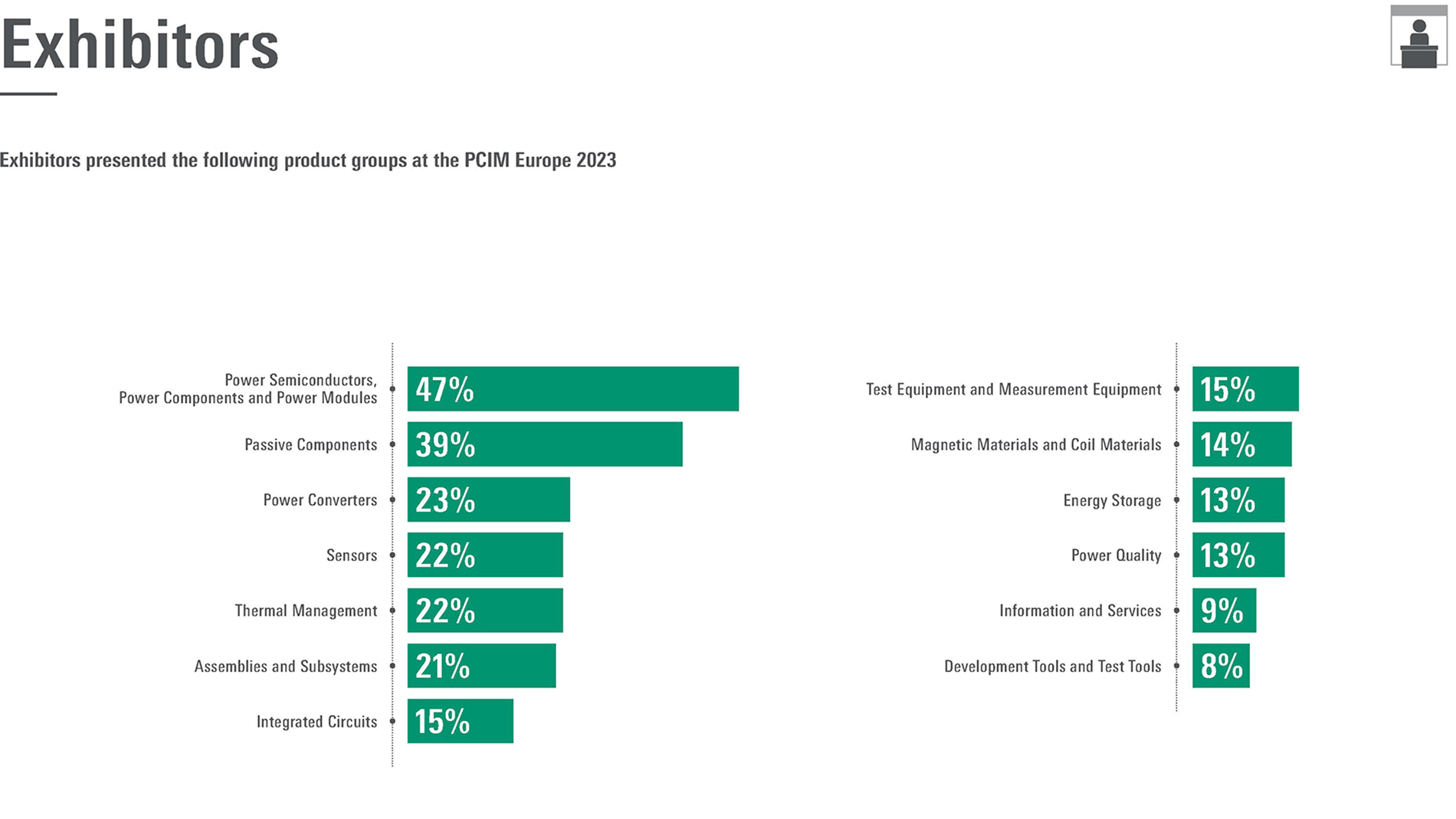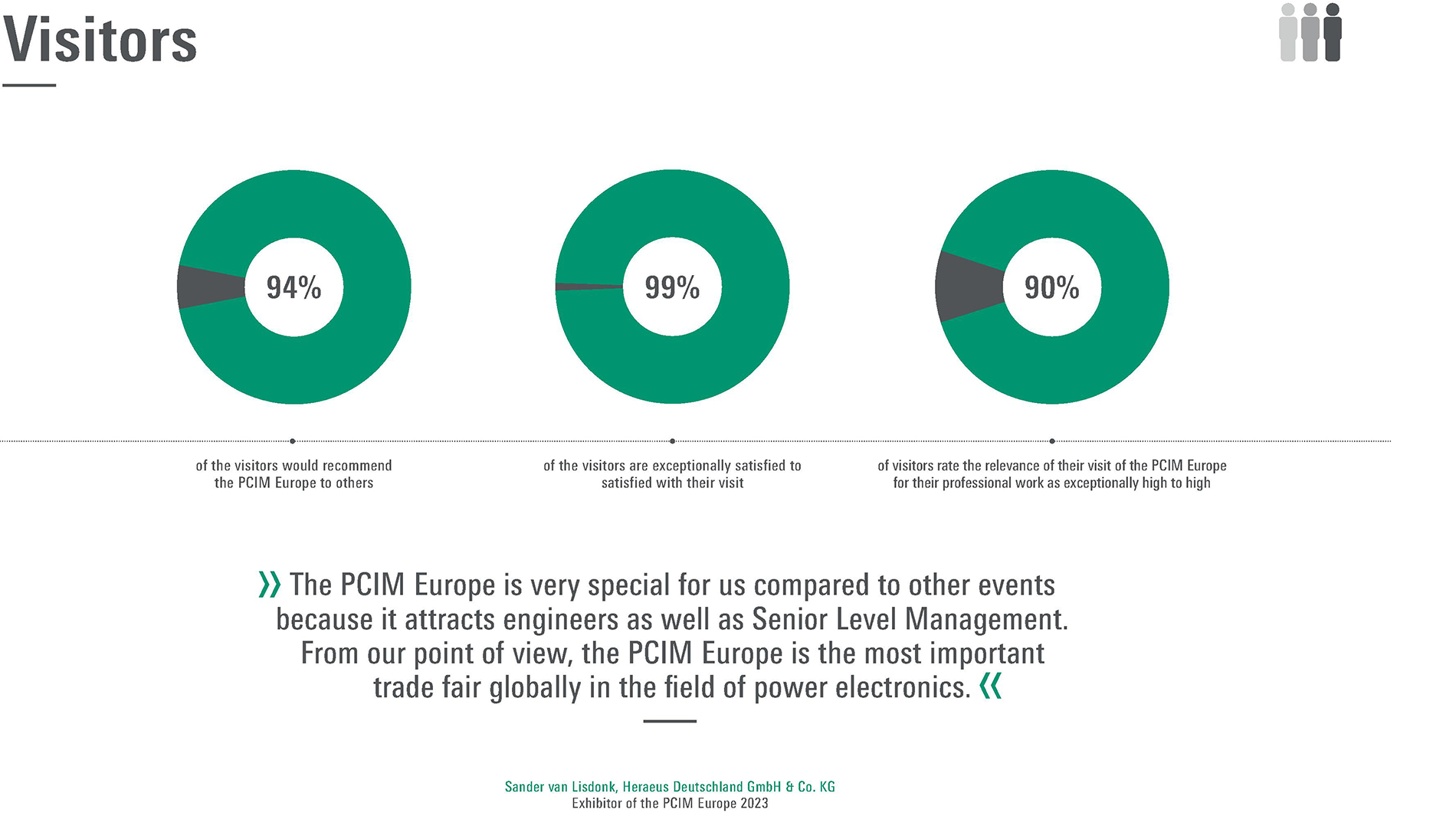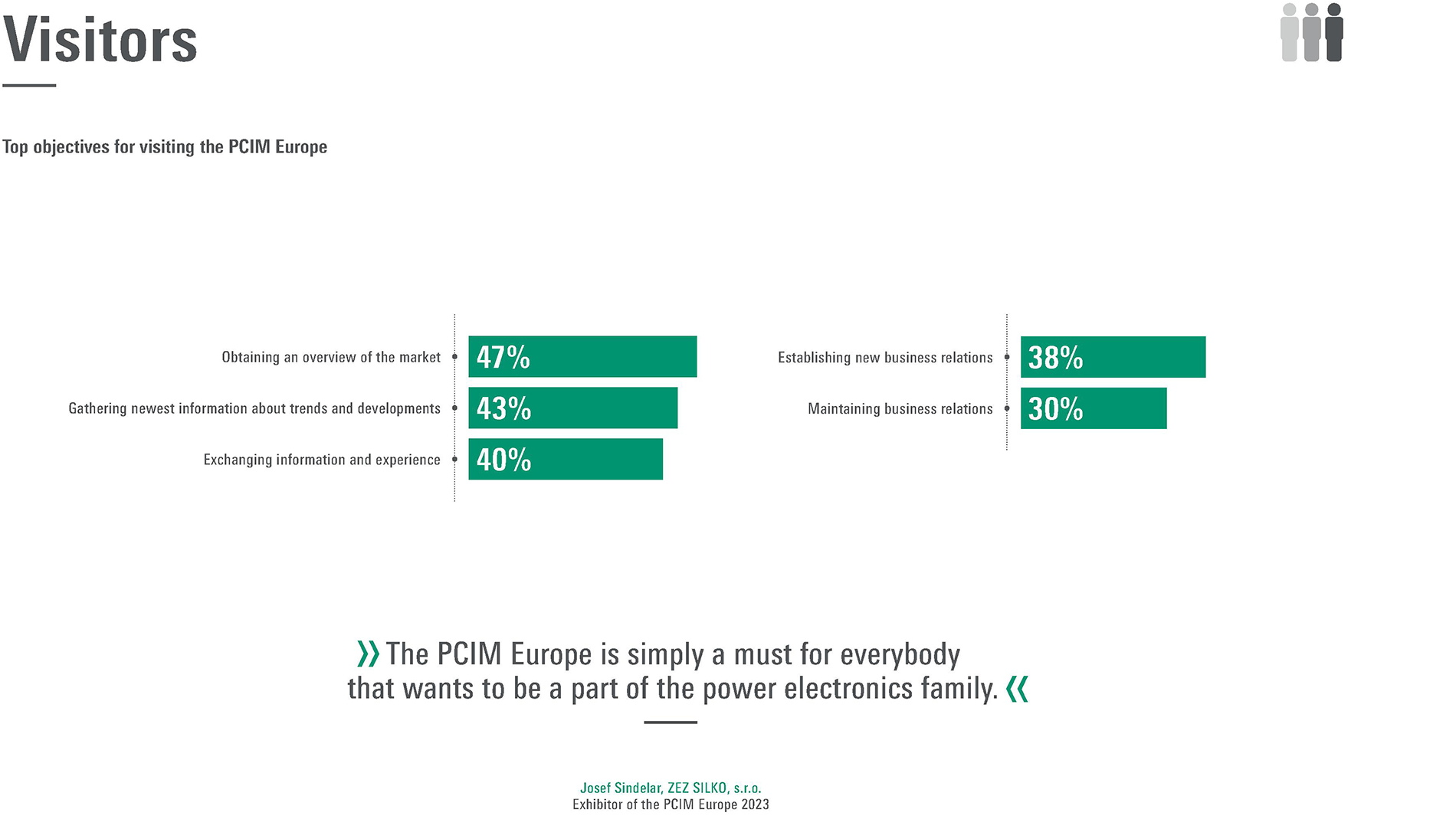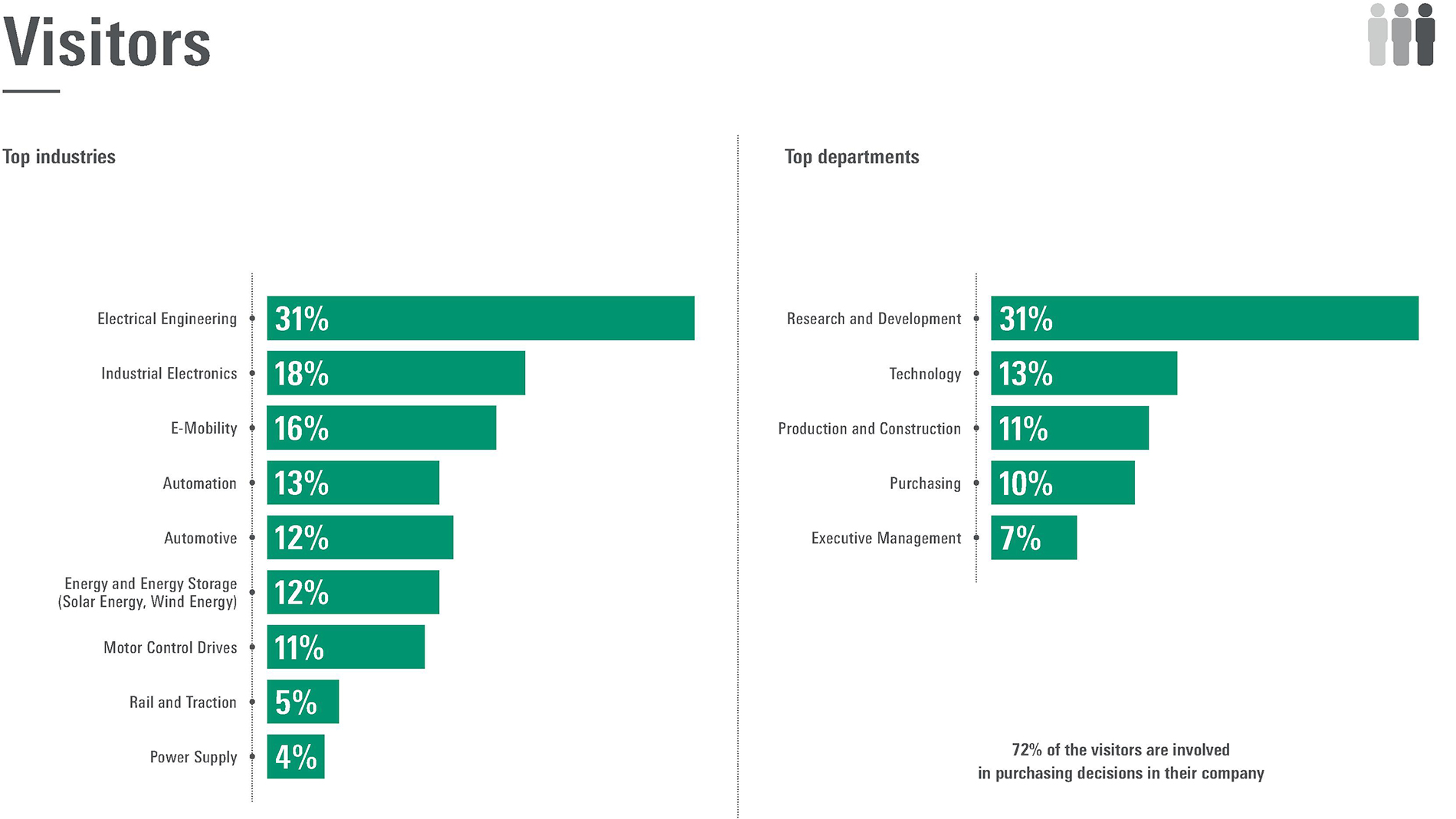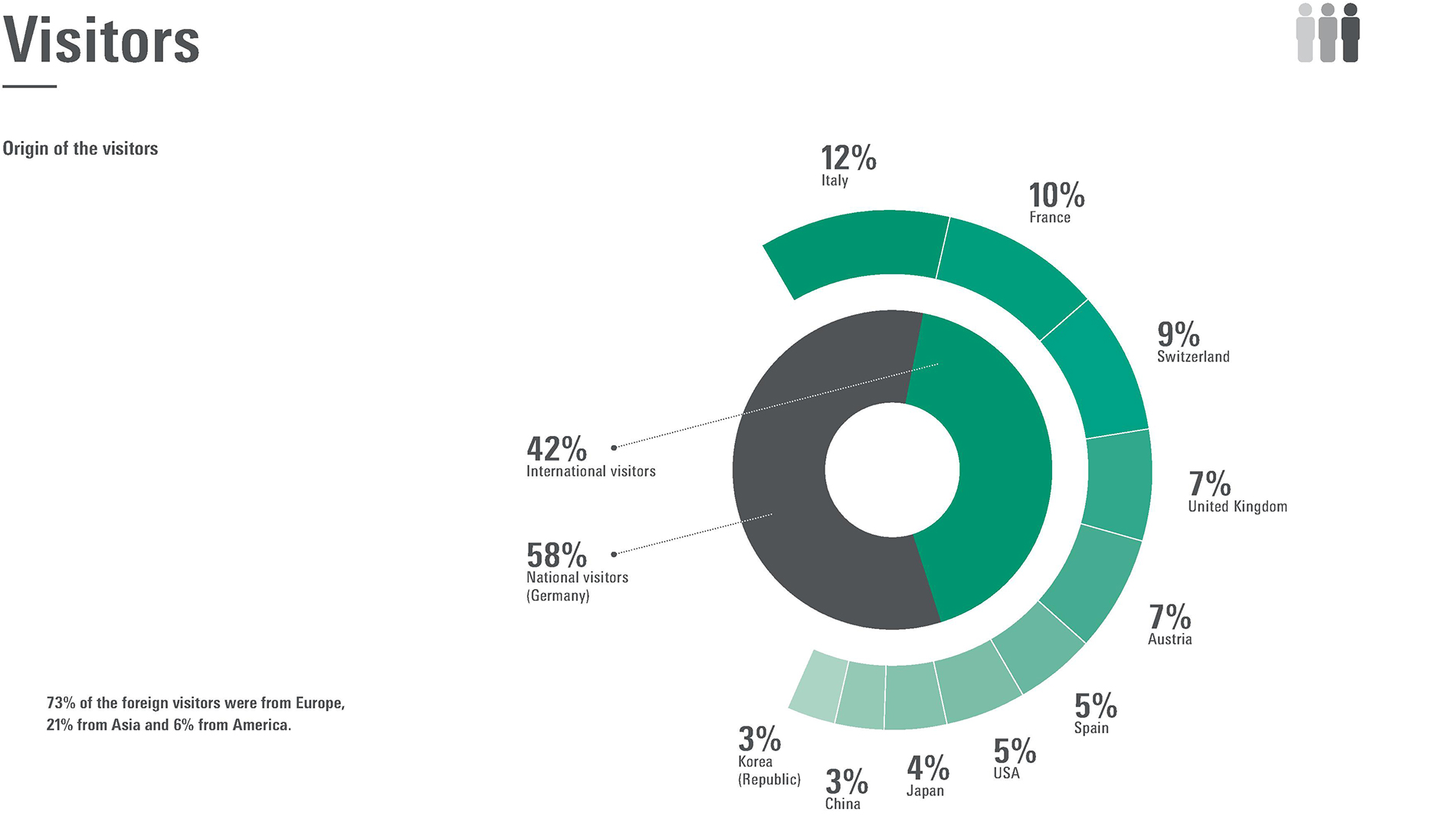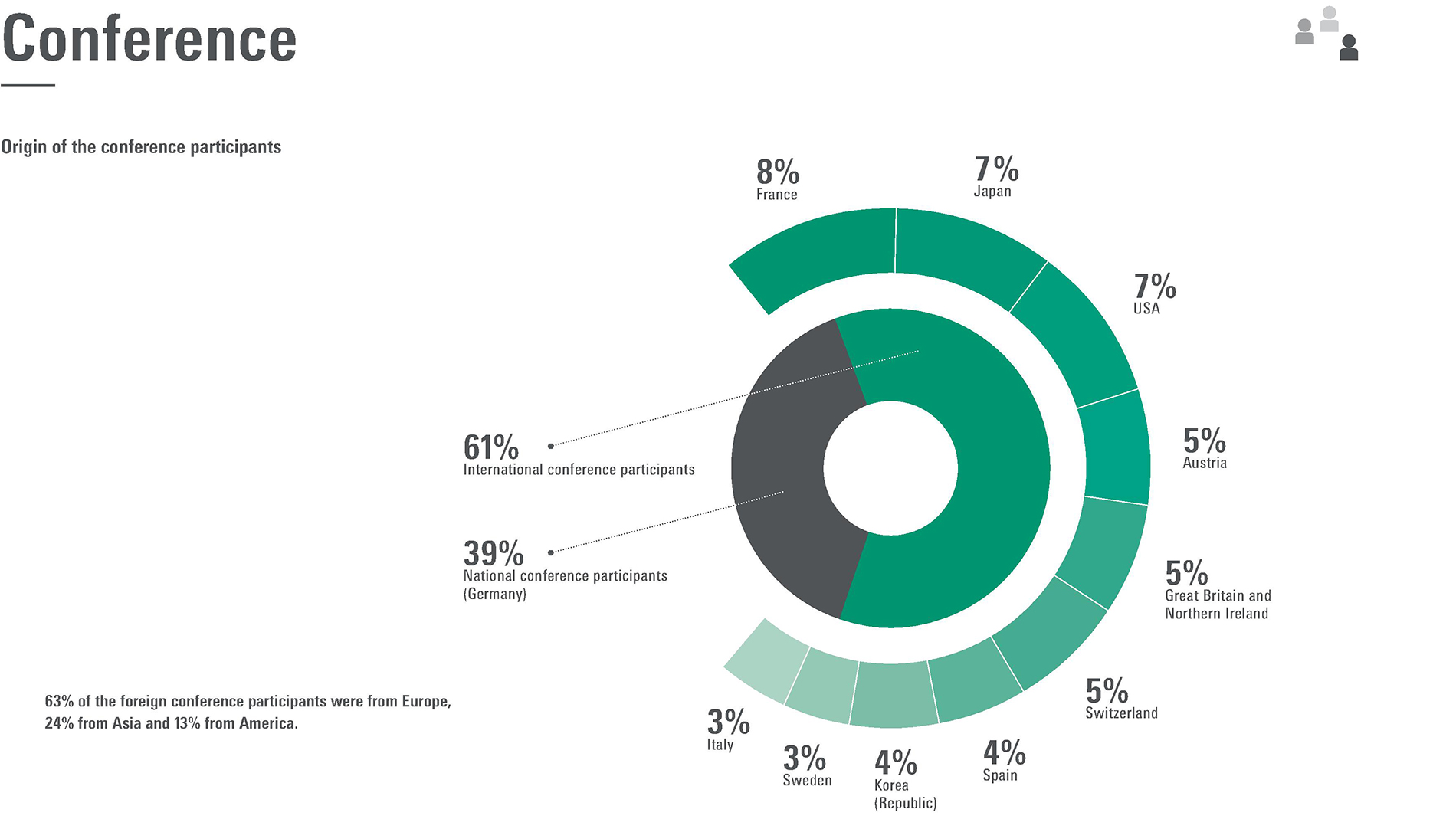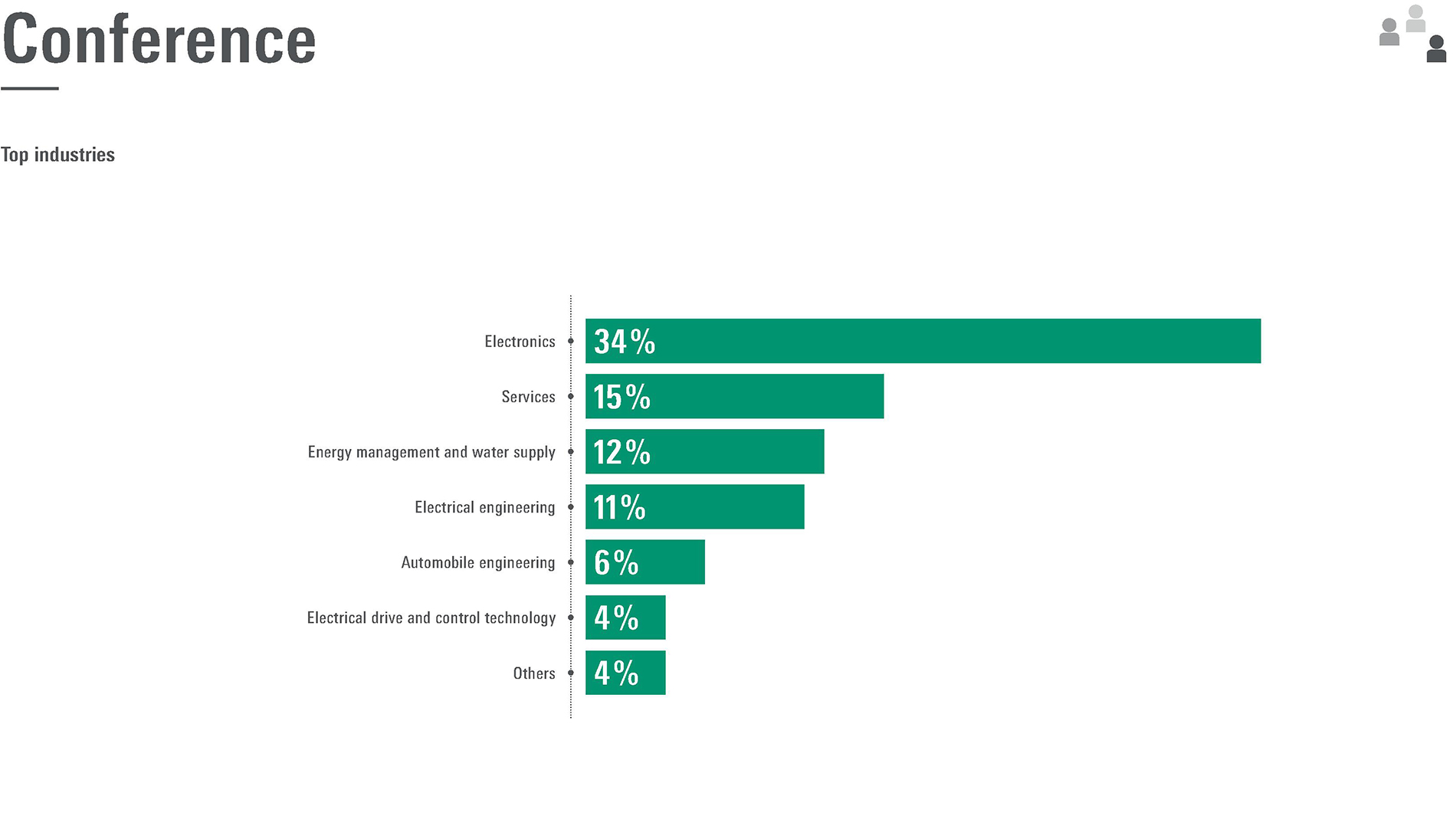 The PCIM Europe is the leading international exhibition and conference for power electronics and its applications. This is where experts from industry and academia meet, where new trends and developments are presented to the public for the very first time. In this way, the event mirrors the entire value chain – from components, drives control and packaging to the final intelligent system. To help you orient yourself, the topics are divided into 13 product groups.  
To the product groups
The international trade visitors are experts and decision makers mainly from research and development, technology, production and construction, purchasing, and the executive management. As a highly specialized exhibition, the PCIM Europe is distinguished by an intensive working atmosphere. Visitors attend the exhibition to gather newest information about trends and development, exchange information and experience, obtain a market overview and to establish and maintain business relations. Among others, the following client industries are represented:
Electrical Engineering
Industrial Electronics
E-mobility
Automation
Automotive
Energy and Energy Storage (Solar Energy, Wind Energy)
Motor Control Drives
Rail and Traction
Power Supply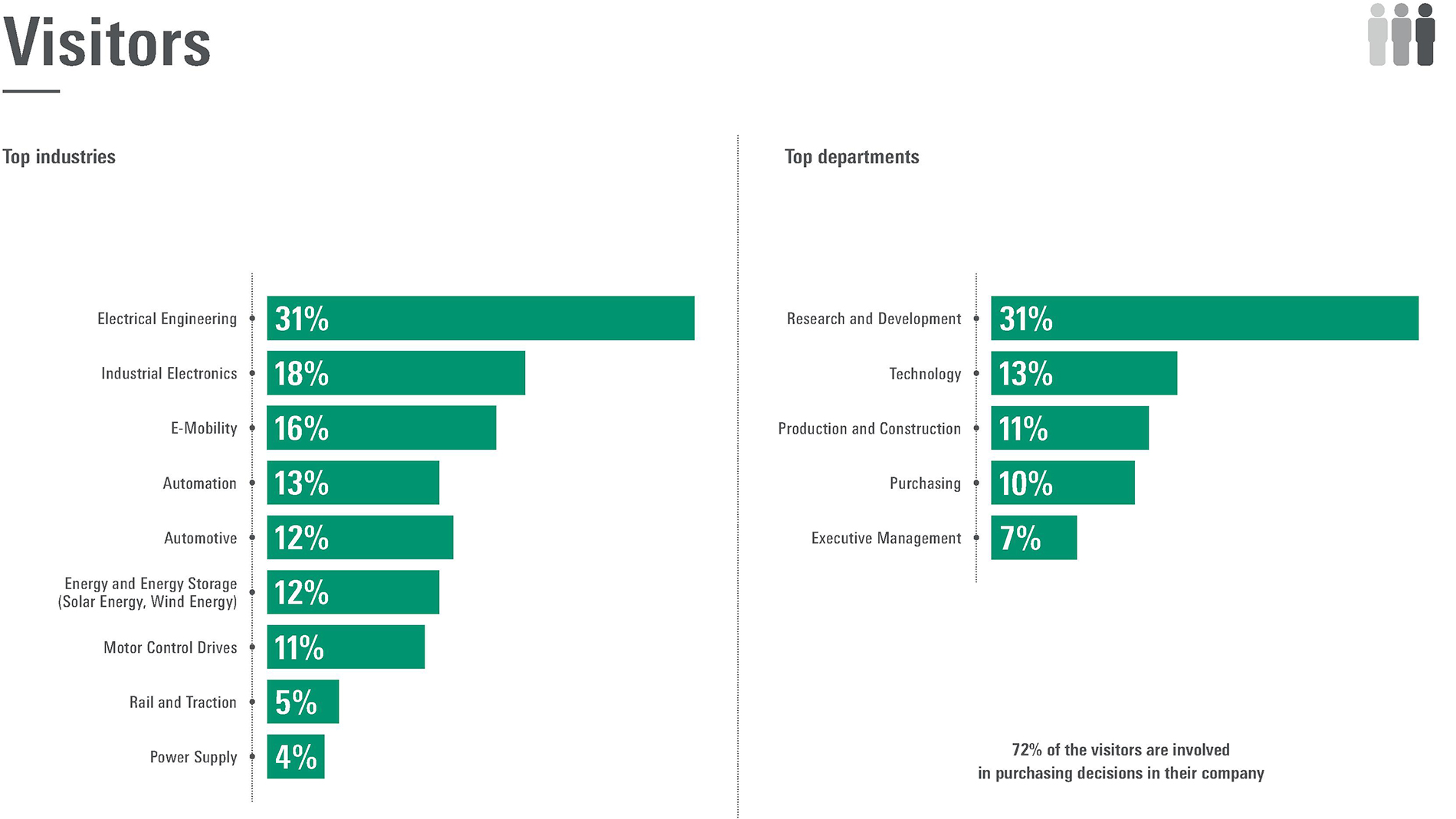 Numerous experts from well-known companies informed themselves on current topics and trends in power electronics and its applications in Nuremberg, Germany, such as e.g.:
Automation
AST Angewandte System Technik
B&R Industrial Automation
Balluff
Baumüller Nürnberg
Beckhoff Automation
Bosch Rexroth
Danieli Automation
Dr. Johannes Heidenhain
Endress+Hauser Conducta
Festo
Honeywell International
Huba Control
KEB Automation
Keysight Technologies
KUKA Deutschland
Kollmorgen Europe
Kostal Industrie Elektrik
Lenze Operations
Panasonic Industry Europe
Schiller Automation
Sigmatek
Weg Drives & Controls
Yaskawa Europe
Rail and Traction
Autronic Steuer- und Regeltechnik
Alstom
BYD Finland Oy
CAF Power & Automation
Caterpillar
Kiepe Electric Schweiz
Rolls-Royce Power Systems
Sécheron
SMART Railway Technology
Stadler Rail Management
Toshiba Railway Europe
Lighting
Ams-Osram
KLV
Vari-Lite
Tridonic
Computing Electronics
Giesecke+Devrient Currency Technology
Speed4Trade
Electrical Engineering
Primetals Technologies Germany
Schaltbau
Tetronic
Trumpf Huettinger
E-mobility
Audi
AVL Software and Functions
Brunsa Elektronik (München)
Electric Flytrain
Evomotiv
Hyundai Motor Company
Leopold Kostal
Mercedes-Benz
SEG Automotive Germany
Tesla
Valeo Siemens eAutomotive Germany
Wittenstein cyber motor
Automotive & Automobile Electronics
Audi
Accelera by Cummins
Aston Martin
Benteler International
BMW
Continental
Mercedes-Benz Group
Delta Electronics
Denso Automotive Deutschland
Dräxlmaier Group
Eberspächer Gruppe
Ferrari
HELLA
Hirschmann Car Communication
HKR Automotive
Hoerbiger Antriebstechnik
Jaguar Land Rover
LS Automotive Technologies
Magna Powertrain
MAN Truck & Bus
Marelli
Porsche Engineering Services
Renault
Schaeffler
Marquardt
Thomas Magnete
Volkswagen
Volvo Car Corporation
Valeo
Vitesco Technologies Group
ZF Friedrichshafen
Industrial Electronics
AixControl
Andreas Stihl
Analog Devices
B&R Industrial Automation
Carlo Gavazzi
EA Elektro-Automatik
EWM
Grundfos Holding
Metallux
Miele & Cie. KG
Schneider Electric
Wilo
Würth
Yaskawa Europe 
Aviation and Aerospace
Advanced Space Power Equipment
AECE Group
Airbus Defence and Space
Collins Aerospace
Diamond Aircraft Industries
GKN Aerospace Sweden AB
MTU Aero Engines
Space Electric Thruster Systems
Tesat-Spacecom
Thales Avionics Electrical Systems
Volocopter
Medical Electronics
GE Healthcare
Miltenyi Biotec
Philips Medical Systems DMC
Quanta System
Robeauté
VEC Imaging
Vyaire Medical
Ziehm Imaging
Motor Control Drives
ABB Drives
AMKmotion
AVL List
Baumüller Nürnberg
Breuer-Motoren
Bühler Motor
Dr. Fritz Faulhaber
ebm-papst Landshut
Hyundai Motor Company
KEB Automation
Obermeier
REFU Drive
Schaeffler Automotive Buehl
Schindler Aufzüge
SEW-Eurodrive
Sieb & Meyer
Stöber Antriebstechnik
Weg Automation Europe
Ziehl-Abegg
Solar Energy
Azur Space Solar Power
BRC Solar
Fronius International
General Electric
Ingeteam Corporación
KACO new energy
my-PV GmbH
SMA Solar Technology
SolarEdge Technologies
Power Supply
AEG Power Solutions
German Power
MTM Power Meßtechnik Mellenbach
Schäfer Elektronik
Schiederwerk
Communications
B. C Neumann PR
Comrod AS
Deutsche Telekom
Ericsson AB
Fink & Fuchs
Golin
Huawei Technologies
Nokia Bell Labs
Public Pro
Wind Energy
Deutsche Windtechnik Steuerung
Enercon
Gamesa Electric
KK Wind Solutions A/S
Legnano Teknoelectric Company
Nordex Energy
Vestas Wind Systems A/S
Wattrogen BV
Impressions 2023